Domestic Fuse Board Change – Spalding Electricians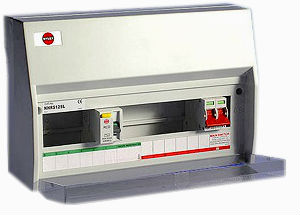 We install new distribution boards, sometimes known as consumer units or fuse boards. This will replace your old, damaged or inadequate fuse board with a brand new, up to date solution that complies to the latest British Standards BS7671 Regulation. This includes residual current devices (safety trips) and miniature circuit breakers, supplied from leading manufacturers such as Wylex and Electrium.
Your complete electrical installation is tested and inspected as required by BS7671 by us, before and during reconnection. All the results are recorded on an NICEIC Installation Certificate. The work is then notified online by us to the NICEIC who then issue you with a Building Control Compliance Certificate via post to the home address.
Both certificates should be retained by you for future use, since they are important documents and may be required when selling your property.
Old fuse boards may still work, but imagine the difference between an HD widescreen TV and one that is 30-40 years old…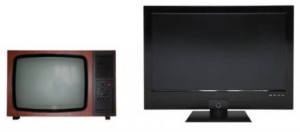 New fuse boards have up to date technology too! This includes modern plastics, fire resistance and miniature circuit breakers (MCB's), not rewireable fuses. The protection and convenience is much better now when using residual current devices (RCD's) to protect against electrical leakage to earth. Modern fuse boards mean there is a greatly reduced risk of fire or electrocution.
Our prices start at £250 to change an old Wylex brown or cream six way fuse board. The complete electrical system is tested to ensure that no faulty wiring is connected to the new distribution board. All faults are corrected first to ensure your safety.
A single Fuse Board change in a 3-4 bedroom house, including all testing / notification will take less than 1 day, usually around 6 hours.