Domestic Electrical Services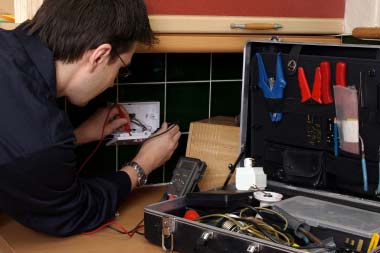 The current British Standards require that domestic electrical systems are inspected at least every ten years, but preferably sooner. K A Goulden Electrical carries out hundreds of inspections in domestic properties every year.
Once the inspection is completed you will be provided with either a 'Satisfactory Certificate' or an 'Unsatisfactory Certificate' together with a comprehensive list of remedial works required, accompanied by an estimate to carry out the works.
For any work carried out by Spalding electricians, K A Goulden Electrical, a one year parts and labour guarantee is provided. At your request we can install a single power point through to a full Electrical Rewire.
Fuse Board Change
If you take a look in your fuse board and discover old-fashioned rewireable fuses, this usually means a fuse board upgrade is required to a modern Miniature Circuit Breaker (MCB) . A fuse board change is beneficial on many levels; it uses new technology making it safer for your home and family but also offers the prospect of less maintenance if you happen to have faulty electrical equipment.
Most people understand the hassle of changing fuses, but not everyone knows they could just be flicking a switch instead. When you do find that fuses blow or that your current MCB discovers a problem with your equipment you may be interested in Portable Appliance Testing (PAT Testing) If you think you could benefit from upgrading your equipment please call us now.
Wiring of Conservatories and Extensions
When planning to build an extension or a conservatory onto your house you should always have the electricity supply considered and wired in by professional installers. It's always worth a bit of forward thinking as to where you might want to have your television, computer or even a ceiling fan installed so you can enjoy your new living space more. We can help you here by discussing what your specific requirements are, meeting them with NICEIC Domestic Installer approved electricians.
Kitchens Bedrooms & Bathrooms
Kitchens, bedrooms and bathrooms might seem like completely separate places but they all have a common function, to make life comfortable, just as we will do if you employ our services. Whether you are installing a new cooker, upgrading to digital television and want to hide those unsightly cables, or even just need some brighter lighting with halogen bulbs in your bathroom we can help you. Meanwhile, you can be assured that all work conforms with the Part P Building Regulations so you know your home will maintain its value.
Off Peak Storage Heating
Depending on your needs it might be appropriate to have off peak storage heating. Apposed to popular belief a modern storage heater can look fresh, slimline and also be automatic so they are more cost effective, only heating the room when you require them to. Nowadays heaters are much thinner than the older conventional ones that you may have seen in offices although they still offer the same benefits with a more pleasing design. A further update to the heaters is that they can be set on a timer or even a thermostat so you get heat as you require it.
We also offer a Free Advice/Get out Clause to amateurs without criticism, who may have thought they could carry out electrical work in their homes.
Spalding electricians, K A Goulden Electrical are happy to provide a Free without obligation estimate for any of the above works.
If you are considering purchasing a new home we would suggest for your own safety and peace of mind that you consider having a full domestic electrical periodic inspection test and a full report carried out on the property.
Renting of Domestic Properties
K A Goulden Electrical work closely with most of the local Estate/Letting Agents providing local Spalding electricians to their management properties.
If you rent out a property, by law you have to ensure that all the electrics in your properties are safe. We can help to achieve this by carrying out an electrical safety check periodically (Domestic Electrical Periodic Inspection Test and Report) and if necessary correct any faults to BS7671. This helps to ensure the safety of your tenants and shows that you are a responsible landlord.
The average cost of a landlords periodic inspection for a 3/4 bedroom property with 1 x 12 way fuse board within 10 miles of Spalding would be £125.00 excluding VAT.
Summary of Domestic Services
Upgrading of Fuse Boards
Installation of RCD's (Residual Current Devices)
Wiring of Conservatories and Extensions
New Kitchen, Bathroom, Bedroom Installations
Install security lighting
Garden lighting
Supply and install low voltage lighting
Telephone and TV Points
Smoke / Heat Detectors – Mains / Battery Linked – Carbon Monoxide Detectors
Install Cooker Points and connect cookers/hobs
Supply and Install Storage Heaters and points
Immersion Heaters, Servicing, Replacement and Plumbing
Wiring of Central Heating Systems and Fault Finding on Electrics
Replacement of worn electrical items throughout the property
Upgrading of Earthing to current standards (BS7671)
General Fault Finding